Like Yurek, Fred was a Holocaust survivor and like him, he, too, had luckily not been in concentration camps. Like Anne Frank, Fred had been hidden, but unlike her, he was moved about, living with fourteen different families. Fred had lost his father when he was eleven. His mother and one brother also survived the Nazi occupation, but his other brother was killed.
Fred also told me about the problems he had had with his children especially with his daughter, Rochelle, and how happy he was that he had been able to get back with them. He wanted me to meet Rochelle and we agreed to go to Los Angeles for his birthday, which fell on Valentine's Day. By then I had agreed to marry him. I bore in mind that we were seniors but rationalized that if we had five good years together it would be a wonderful future for us. This was my big mistake, as I should have wished for at least ten or even fifteen more healthful years. We talked to Rabbi Silverman and fixed the date of our wedding for 15th of March, the Ides of March. We decided to sell both our houses and look for a suitable house for our new life together.
We made a list of all the friends to be invited to our wedding and it turned out to be quite a long list of one hundred and forty people. We discovered that ninety five percent of the guests were mutual friends although we knew many of them from different angles.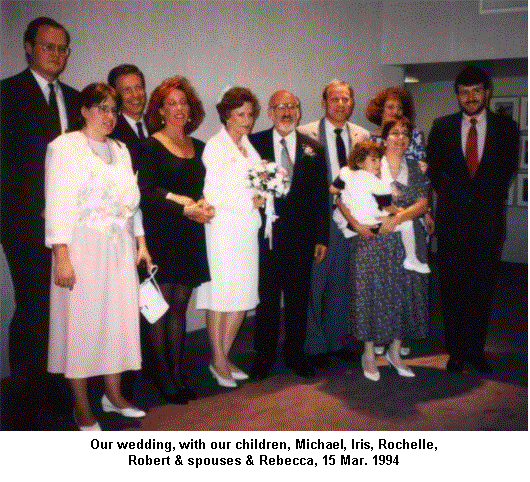 Our two Chavurot gave us special bridal parties that were really memorable and presented us with lovely gifts. Dorit had planned to visit me for Passover so I told her about our wedding. She arranged to come for this occasion as well.
The wedding was absolutely perfect, a happy but quiet celebration.
Fred took care of my hair and a cosmetician made up my face under Dorit's supervision. I bought a lovely off-white two piece dress for the occasion and everyone was glad to participate in such a joyous affair which rarely comes around at our age. We had three Rabbis attending our wedding: Rabbi Silverman, Rabbi Plotkin and Rabbi Sherwin. Cantor Tabaknik sang the beautiful special wedding psalms and benedictions. Afterwards we went into the dining hall where our one hundred and twenty guests enjoyed a mouth-watering, splendid dinner. A friend of Fred's played the piano during the meal and Cantor Tabaknik entertained us with his songs. The evening ended with the Hatikva, when everyone had to stand up for Israel's national anthem.
For our honeymoon we went to Hawaii and we had a great time. We spent three days on Maui, where we got the royal treatment. My travel agent, Cynthia, arranged a bridal suite for us that was enormous, with double doors and two big balconies that could accommodate a party of one hundred people. We were right on the beach, overlooking the ocean. It could not have been any better. The last four days we spent on Hawaii, the Big Island, where we did a lot of sightseeing. We went to the top of the Volcano and also to the place where the new lava was still flowing and had completely covered the road. Guards were watching and warning visitors not to go too far, but it was supposed to be safe where we were walking. While Fred was taking a picture, a fire suddenly erupted next to me that scared me but luckily did no harm.
While we were away, I arranged for Dorit to go on two tours, to the Grand Canyon and to Las Vegas. For the three remaining days, she stayed with Michael. We had found the house that we both liked, very close to our first house in Phoenix and to Fred's current house. My house had sold in the meantime and I had to move a week after our return from Hawaii. Dorit was still with us and again was a tremendous help in packing all my belongings. I borrowed Iris' truck and transported the smaller boxes. A moving company only needed to move my furniture and other big items. The first night in our new house we had problems with the lights and with the hot water. Dorit was still with us for that one night. We were not too comfortable in our strange surroundings, having to use candles when it got dark and not having any hot water for a shower.
Soon after Dorit left, Fred was able to find buyers for his house. In a way, a disaster had turned out to be fortunate. On Fred's return from Israel, his house had been completely flooded. The insurance company paid for the entire overhaul of his house, new carpets, tiles, drapes and paint, so that it looked quite good. The townhouse association had also repainted all the outside and repaved the road.
My moving was scheduled four days after the closing, therefore we assumed the same time span was planned for Fred's house. However, at eleven p.m. of the day of Fred's closing, we received a call from our realtor, telling us that Fred had to move the next morning. He had a dentist appointment for that morning to extract four teeth. Being fearful of pain, he asked the dentist to sedate him well, so he was very sleepy on the day of his move. We had managed to get a few hours extension. The realtor and I packed and cleaned the house for about eight hours, with Fred being able to help a little toward the end. Robert came to take all the furniture he was getting and the movers transported the few heavy pieces for Fred's den and the guest room. Fred had donated his piano to Beth El Synagogue. The movers brought it there, although it was already Friday night and the place was closed. Iris and John were very helpful. We used their truck for all the smaller items as well as the heavy stones, boulders and big flower pots in the garden. Without their help and the realtor's, we would never have made it.
After this exhausting day we were ready to go on vacation. I had booked my timeshare week in Puerto Vallarta the year before, and actually had invited Eve to join me. I had to disappoint Eve, who of course understood. Now I was going with my husband. We enjoyed it there very much, but made the big mistake of letting those clever realtors talk us into buying a few more weeks. They convinced us that the reason that I could not get the exchange nor the time requested was because I only had a single timeshare week. They said that we needed a fractional, which was four weeks. That would give us the leverage to get any exchange we wanted. They also said that all we needed was four studios. We gave up my nice one bedroom for four weeks of studios and had to pay them another thirty two thousand dollars! The next day the timeshare place next door to ours gave us a big talk and a fairly good deal. We had to pay them three thousand dollars with our credit card, and had three years to pay one hundred dollars a month for the balance. For that price we got a one bedroom place.
It was time for us to introduce each other to our own relatives and friends who were scattered around the world. We first embarked on a trip to Europe and Israel. We started off in England for Fred to meet my family and close friends: Eva and Suzanne, Erica and Hannah, John and Jane, and Rosi, David and family with whom we stayed. Of course we did some sightseeing too, such as Royal Sandringham Castle, Norwick, Ely Cathedral and Cambridge as well as the Tower of London, Greenwich and other attractive and interesting tourist places.
Next we took the overnight ferry to Hoek van Holland, and rented a car to go to Den Haag to meet Fred's cousin and also Frau Tinbergen, his old German teacher who had risked her life to come and teach him while he was in hiding. Then we went on to Eindhoven, Fred's birthplace, where we met the children of the man who had saved Fred's life during the Nazi era by hiding him with many different families. Unfortunately, the rescuer himself had died two years earlier. Fred's brother and sister-in-law were on vacation in Spain, so we could not meet them, and that really was most regrettable as the next time we went to Europe Fred's brother was no longer alive. Our last stop in Holland was in Hengelo, to see Yurek's eldest son Ilan, who had once come to visit his father and me in Ludwigshafen. Ilan and his wife were very friendly and showed us their lovely house. They offered us coffee and cake and a few bottles of water and juice to take on our way.
From Hengelo we drove to Amsterdam where we embarked on a five day cruise on the Rhine River. Since then we have taken many cruises but the cuisine on that Koeln-Duesseldorfer Line was superior to all of them. We traveled on the MS Britannia to Duesseldorf, where we went on a city tour, then to Cologne, where we were met by Maria Buehler who brought us a bouquet of flowers. We had another city tour there and took Maria along so we could spend more time together. Although she had been living in Cologne for quite a few years, she also enjoyed the tour and saw places she had not known about. Our next stop was in Speyer where we saw the Cathedral and the remains of a synagogue. Our cruise ended in beautiful Strasbourg, where we picked up our rental car.
We drove to Heidelberg to stay with Dorit for the next five days. Friday night we managed to go to the synagogue in Heidelberg and Saturday morning to my former synagogue in Mannheim. I showed Fred the most interesting sights, such as the Jewish quarter and synagogue in Worms with Rashi's Yeshiva and one of the oldest cemeteries in Europe that had not been destroyed by the Nazis. We went to the Odenwald, a beautiful forest region, to Bad Duerkheim, a lovely spa town, to Schwetzingen, a rococo castle similar to but smaller than Versaille. Of course we saw Heidelberg and its famous castle both by day and by night.
From Heidelberg we went back to Strasbourg to return the car and to meet with the Buehlers who took us on a walking tour of this picturesque city. We stayed with them in Freiburg for a few days. They treated us like royalty, wining and dining us in the best restaurants. They showed us some parts of the beautiful Black Forest, such as the Feldberg, where we took cable chairs all the way to the top.
We left Freiburg by train going to Zurich, where we started our Globus tour of Switzerland. Our first stop was in Vaduz, the capital of the tiny country of Liechtenstein. We stayed in St. Moritz overnight, in a lovely hotel and were served a superb dinner. The soup was so delicious that Fred complimented the waitress on it. She asked him if he would like a second helping, which he gladly accepted. The main course was also very savory and again Fred remarked on it. The waitress offered him a second helping of it and again Fred accepted. The dessert was likewise very tasty and again Fred accepted the offer of a second helping. So Fred ended up consuming two complete dinners. After such a big meal we had to go for a walk. It was really worth our while to stroll through the famous ski resort St. Moritz. The landscape there is absolutely magnificent.
The next day we took a horse and wagon ride along the river. It was in a lush rural area, with the high, snow-covered mountains visible in the background. We then went to Lake Lugano to embark on a ferry boat for a visit of the island of Isola Bella. A gorgeous castle with delightful gardens awaited us on that island, which well deserves its name. Zermatt was our subsequent destination, our base for taking the famous European rack-train ride up close to the Matterhorn, a climb to over ten thousand feet. From up there the panoramic view of the Alps is just breathtaking. Further visits included Lake Geneva with Chillon Castle which Lord Byron immortalized, then Bern, Switzerland's capital with its monumental Federal Palace, and the bear pit, Interlaken, Luzern with its famous Covered Wooden Bridge and the Lion Monument, and then back to Zurich.
Swissair took us to Athens, where we started our next Globus tour of Greece and its islands. Our bus tour took us to ancient Corinth and the extremely narrow Corinth Canal, to Homer's Mycenae with Agamemnon's Royal Palace, the Lion Gate and the Beehive Tombs, then to Epidaurus, the two thousand three hundred-year-old open-air theater. Olympia was our next destination, where we walked across the Gymnasium and saw the Temples of Hera and Zeus. We climbed the slopes of Mt. Parnassus to Apollo's sanctuary and the place where the Oracle of Delphi was pronounced and revealed. The unreal, fantastic landscape of Meteora with its twenty-four rock-top monasteries was a real eye-opener. To visit one of the monasteries, we had to climb one hundred and sixty steps, about the same as walking up to the tenth floor of an apartment building. We visited two monasteries, one famous for its frescoes, the other for its icons, but the panoramic view from them was the most incredible.
Thermopile, the site of the heroic battle between three hundred Spartans and the huge Persian army was our next stop, then Thebes, and Marathon, all famous places in Greek history. Returning to Athens, we visited the Acropolis with the Parthenon, Zeus' Temple and the Agora. The tour ended with a visit to the Royal Palace and a number of imposing government buildings as well as some elegant homes in the modern city.
Now started our cruise from Pireus, along the Dardanelle Strait, linking the Aegean with the Marmara Sea. Entering the Golden Horn we stopped in Istanbul, Turkey, to visit the Ayasofya museum and the Blue Mosque. Then on to Kusadasi, to explore the fascinating Greek, Roman and Byzantine excavations of Ephesus. Soon we were on our way to the Greek islands. First we anchored at Rhodes, where we walked around the Old City. Then Crete to see Knossos and visit the center of the Minoan civilization that existed in three thousand BCE. Santorini, the "Black Pearl of the Aegean," was a great adventure. We took the cable car to the village to stroll through the narrow alleys enclosed by white-washed houses, and had a breathtaking panoramic view. To return to our cruise ship we had to get down the mountain. We decided to walk but frequently had to step aside in order to avoid the hordes of donkeys carrying other tourists up or down. Patmos and Mykonos were the last two islands on our tour. Mykonos again dazzled us with its white-washed houses and its picturesque windmills. Fred, who took videos of everything, had left the video camera on the ship, but he was so taken by those intricate windmills that he went all the way back to get the camera, and then again to the windmills, a rather long walk.
Before we had left for the cruise, we had given our tour guide the detailed information of our flight from Athens to Tel-Aviv. The flight was scheduled for the day after our disembarkation, and would need to be confirmed. Somehow she had failed to do so, as our plane had been rescheduled and had left just before we were to check in at the airport. When I went to the El Al counter and asked them, in Hebrew, where all the passengers were, I was told of the time change. The Israeli crew went out of their way to accommodate us by rescheduling us for the following morning, providing us with a hotel room in a lovely hotel including all the meals. It really was rather convenient for us. Our apartment in Jerusalem was not available until the following day anyway, so we did not have to stay with Amnon for one night but could go to our apartment directly from the airport.
On the evening of our arrival Amnon came to take us to Chagai's birthday celebration. We all went out to a lovely restaurant in the German Colony and enjoyed the party during which Fred was introduced to my children and grandchildren. The following day we took the armored bus to Kiryat Arba. There I met Fred's son Naftali, his wife Marcia and their four children Hanan, Boaz, Jehoshua and Bracha. Two armed soldiers accompanied us, beside another heavily armed vehicle leading us through mainly Arab territory. The drive was extremely interesting to me as I had not taken that road for forty-seven years.
The last time I was in Hebron was in the summer of 1947. I had joined a tour of the Negev with cousin Hannah and many of her friends and colleagues, all from the Afula area, as she had been working at Afula Hospital at the time. The whole group was returning north, while I had to get back to Jerusalem. In Hebron they turned northwestward, while I headed northeast. I got off in Hebron and waited for an Arab bus to take me home. Just a few months later this would no longer have been possible.
While driving to Kiryat Arba I looked out of the window eagerly. The landscape was very beautiful but during those many years since my last time there, the environment had changed completely. We saw some Arab refugee camps that had barely been improved during almost half a century, but there were also numerous magnificent villas recently erected by the rich Arabs in many of the towns and villages that we passed. We drove through Hebron and then entered the heavily guarded enclave of Kiryat Arba. It is an attractive garden town, with beautifully built houses of white Jerusalem stone and many lush lawns and trees. Once inside the fence, this place feels completely safe and the children can walk about unaccompanied, even at night.
We made the rounds in Israel so that Fred could also meet cousin Evi and family in Nahalal, my best friend Frieda, and Leah and husband Moshe in Tel-Aviv, also Rachel and Yehuda, David Neuman and some more of my former classmates. Shula Brown/Retter had a big celebration for the "Pidyon Haben" (Redemption of the first born) of her grandson to which we were invited, and there I again met many former classmates.
Just about three months later we were scheduled to return to Israel to celebrate a double Simcha in my family: Ophir's Bar-Mitzva, and his new brother Gil'ad's Brith Milah. I was eagerly looking forward to this event as Ophir was my oldest grandson. I had never managed to be at any of my Israeli grandsons' Briths. I arranged for all my children and families to come with us: Michael, Jodi, Rebecca and Bentzi, Iris and John, and Jodi's parents joined us too, so that we were a party of ten booked on the flight from Phoenix to Tel-Aviv.
Unfortunately, Fred got a bad attack of asthma just a few days before our flight. I had to call an ambulance which took him to the hospital. Fred had just canceled his health insurance as he would be covered by Medicare two months later and he thought that he could do without insurance for two months. Luckily he insisted on being taken to the Veterans Hospital, where they examined him, gave him some oxygen, and released him three hours later; however, they strongly advised him against his flying for at least one week. We just had to pay for the ambulance, a sum of four hundred and ninety dollars. Cynthia, my travel agent, was a tremendous help in getting our flight postponed to four days later. This was not an easy task as we would now fly three days before Christmas. We were even exempt from paying any penalty. We thus missed traveling with all the family and also missed the Friday night celebration which coincided with Amnon's and Naomi's wedding anniversary. Fred had still not recovered fully and needed some oxygen on the last segment of our flight, but after a day or two in Israel, he recuperated completely.
We rented a small, modern apartment on French Hill, which is the suburb closest to Pizgat Ze'ev, where Amnon lives. Amnon and Naomi were renting a beautiful large apartment for themselves. They were no longer comfortable living in the same quarters with the kindergarten, which operated from seven in the morning until five in the afternoon, six days a week. However, for the occasion of the Bar-Mitzva, the kindergarten closed for a few days. It had been planned that all my children would stay there.
The morning after our arrival Jodi, Michael and the children came to our apartment complaining of their uncomfortable accommodation. It was too cold and the kindergarten was still in session, so they had no access to the kitchen. Michael and I inquired about other available rentals, but nothing satisfied Jodi. We had booked a timeshare week in Tiberias, and promised them our apartment for that time. A little while later Iris and John arrived. They also complained about having had no breakfast as they, too, could not get into the kitchen, which was being used by the kindergarten. Jodi's parents were staying at a hotel where they were comfortable, so Iris and John got a room there too. However, just before dawn the following morning they were all almost blasted out of their beds. An Arab terrorist had camouflaged himself as an Israeli soldier and had tried to get on an army bus full of soldiers returning to their base. Fortunately the bus driver became suspicious and started driving off, but still the Arab's bombs went off killing three soldiers and wounding others. All this happened across the street from the hotel where Iris, John and Jodi's parents were staying. They got quite a shock.
Amnon's and Naomi's fifth child, Gil'ad, was born a few days before our arrival. We were all present at Gil'ad's Brith, which took place at Beit Ja'akov Synagogue in Pizgat Ze'ev on 20 December. It was wonderful that all my family were present at this happy family celebration.
The Bar-Mitzva was a fantastic affair. It started on Thursday with Ophir reading the Torah at the Western Wall. Then on Shabbat he read his Torah portion again and got an Aliyah in the synagogue. The delicious Kiddush that followed the services was catered by Naomi and Amnon. Then about forty guests came to their house for another sumptuous meal. The big party was Monday night at the Hyatt Regency Hotel. Amnon went all out to make it even more grandiose than most weddings I had attended.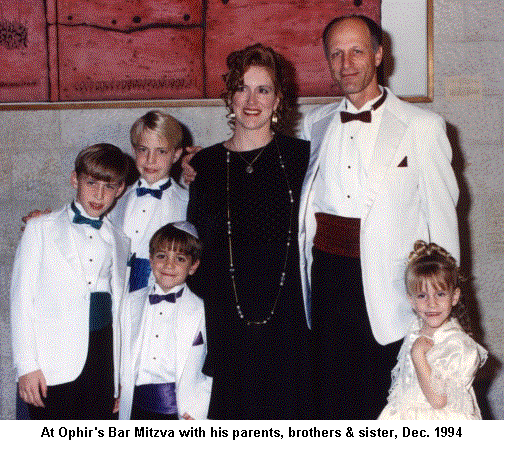 The food was tasty and offered many different choices and the dessert tables were just out of this world. I have never seen anything like that before or since. The Bar-Mitzva cake was shaped like an open Torah scroll and was made of the best marzipan. There were so many savory desserts that very little of it was eaten, so I took a big piece of the marzipan cake home and enjoyed that delicacy for a few more days.
Amnon engaged a fourteen man entertainment group comparable to any Las Vegas show. Their repertoire included many of the hits from famous musicals, which they sang and danced beautifully. They also prompted us to dance and sing along, so that everyone was involved. Ophir showed off his dancing talent and we all circled around him and applauded his performance.
During the week that we spent in Tiberias we went to the hot springs spa a few times. This was very relaxing and invigorating, alleviating all our pains and aches. We also went to Chamat Gader, formerly known as El Chameh, a natural hot spring. I had soaked there with Mother during my childhood, when the country was still a British Mandate. Then the place was a primitive small pool for women only in a fairly dark room. There was a similar room for men. Now it was completely renovated with large outdoor pools among lush trees, waterfalls and lawns, modern dressing-rooms and showers. We encountered there quite a large crowd, enjoying a day of relaxation. Not far from there was an alligator farm where we saw many alligators of all sizes and ages. A demonstration of a fight between a man and an alligator was presented.
At our timeshare we attended a big New Year party. There was a lot of food and entertainment and the dancing continued until about three or four in the morning. It was fun and well organized, but we missed having friends or relatives to share in the festivities.
Back in Phoenix, we celebrated our first wedding anniversary on the 15th of March 1995. On Sunday the 19th, we made a big party at our house with more than eighty of our friends and relatives attending. March is a beautiful time of the year in Phoenix, when the weather is extremely pleasant. We opened the patio doors to the back yard. Our guests could spread out over the whole area. Fred and I prepared all the food ourselves. Some friends said that it was the best party in town. We also enjoyed the day immensely and repeated the celebration on our second, third, and fifth wedding anniversaries.
At the end of March we went to Palm Springs and San Diego, a month later to our timeshare in Puerto Vallarta, then to Cabo San Lucas, our sister timeshare. In August we went to Lake Powell and took a beautiful placid raft trip down the Colorado River.
In the summer of 1995 we drove across the USA to Eastern Canada. We first went to Canyon de Chelley and Mesa Verde National Park. In the Four Corners I was in four states simultaneously, by placing each foot and hand in a different state: Arizona, New Mexico, Utah and Colorado. Then we went to Durango and took the train to Silverton, a most spectacular ride. We stayed for a week in a timeshare on Lake Dillon in Colorado. The scenery was lovely and we used the opportunity to visit many beautiful areas, such as the Garden of the Gods, Denver and Leadville. We drove all the way up to Pike's Peak, 14,110 feet high. It was covered in snow although it was the middle of June. I was wearing my open sandals, and I had to borrow Fred's huge sneakers to enable me to get out of the car and walk around to see the spectacular view of the area. Unfortunately, Rocky Mountain National Park was closed most of the way because of the heavy snow.
We stopped in Independence and later in St. Louis, Missouri, where we went up into the Arch, then to Indianapolis with its lovely famous rose garden. From there we went to Dayton, Ohio to see the Air Force Museum and then to Columbus. Pittsburgh was our next stop to visit friends of Fred's, then on to New York where Michael was working at the time. He held a Vice President position at Republic Bank and enjoyed his position very much. He showed us his bank and his office, and the cafeteria which was Kosher. The bank was located in the center of Manhattan, next to the Central Library and occupied the whole eight stories high building. Unfortunately, Jodi objected to Michael working in New York and refused to move there, so he soon had to give up his position. While visiting New York we managed to see one Broadway show: "Crazy for You."
On our way to Canada we stopped in Ausable Chasm and walked down to see that impressive natural sight. Then on to Quebec City, a most charming place to walk around, sit in the sidewalk cafes and watch the other tourists. We took a boat ride to Montgomery Falls and the picturesque surrounding area and were sorry that we had to leave.
I had stayed in touch with Yurek's uncle in Montreal. He had always begged us to come and visit him again, so I wrote him that Fred and I would come to see them. His grandson, Michael, was getting married on 3rd of July so we asked if we could come to the wedding. He was delighted and invited us to their house. We went to Toronto together, where the wedding took place. Golda, Yurek's cousin, asked us to stay with her; she prepared enough food to feed a whole army. We could stay only one day with Golda. They were all so happy to see us, and rather disappointed that we could not stay longer. The uncle showed us his synagogue, Beth Zion in St. Luc, to which he had contributed great sums of money, and which displayed many plaques with his and the family name. That same night I managed to get in touch with Michael Feldman, a childhood friend of mine (his parents and mine had been close friends in Germany and in Israel) and we paid a short visit to him and his new wife, Dalia. His first wife had also died of cancer.
Renee Kulik, the uncle's older daughter and mother of the groom, made reservations for us and other guests at a lovely hotel in Ontario. We found fruit and flowers in our room when we arrived, and a heartwarming welcoming card. That evening we had a big dinner at their house and finally met her and her family. They were all very gracious and friendly. The next day was another big celebration with a grand reception at the bride's parents' house, then the wedding itself at the Beth Tikvah Synagogue and a huge dinner afterwards. A large crowd was at the lovely dinner including a soap opera star who was one of the relatives.
After the exciting wedding celebrations we started on our way back. Our first stop was Niagara Falls where we embarked on the "Maid of the Mist" to get as close as possible to the Falls. We all received light ponchos to keep us dry. The Falls are really an amazing sight! So much water pouring incessantly down from these high cliffs. We enjoyed our stay in this very romantic place.
Then we visited London, Ontario, a small English style town with pretty parks where we stopped for a picnic lunch. Next we halted in Detroit, with its delightful Belle Isle Park. We went to West Bloomfield, to the Holocaust Memorial Center which is part of the Jewish Community Center. The huge complex is very impressive, with large sports facilities and beautiful grounds. We found the Holocaust Center a powerful, stirring and memorable place. In a fairly small space it succeeds in delivering its message.
Charlevoix and Beaver Island were charming French style villages with a picturesque marina. Again we enjoyed a tasty picnic lunch on the river bank. After a short visit to Traverse City we continued to Grayling, where we ventured on a canoe ride. We were told that it was really easy. The flow of the river would take us to our destination in about two hours, without our having to do any paddling. Well, we managed to get into all kinds of trouble. There were many tree stumps in the river which invariably seemed to ensnare us. They always got in our way and we had to struggle to disentangle ourselves from the numerous underbrush. Quite a few rowers passed us and once we even had to ask for help to get back into the current. With all our rowing it took us two and a half hours to get to the meeting point, where a large party was awaiting our arrival. We wanted to make a good impression, so we rowed hard in unison aiming at the correct spot on the river bank. However, we missed our goal, hit another tree and almost toppled over, to the amusement of all the spectators. Still, it had been a lovely experience and an adventure in a most scenic and serene environment.
Mackinaw Island in Michigan was our next destination. The ferry boat took us to the island. We then took a narrated carriage tour through the historic island. The only other transportation beside walking are bicycles. It was a sunny beautiful day and very enjoyable. Michigan in summer has many gorgeous places. We explored some beautiful lakes, such as Big Spring in Indian Lake State Park. The water in the lake is emerald green and so clean that we could see right to its deep bottom. There was a floating platform on which we were able to glide across the fairly small lake, by way of pulling a rope that was tied to both banks.
Later we explored different falls, such as Wagner, Munising and Canyon Falls. While hiking to one fall, the weather suddenly changed. It had been a lovely, sunny day and we were dressed in shorts. I wore my usual open sandals. Now it began to thunder and the lightning in the deep forest became quite frightening. We were already fairly close to the fall when heavy rain poured down on us, so we decided to go on and just have a quick look before turning back. There were a couple of other people at the falls, which were absolutely spectacular, but the rain drenched all of us completely, so we hurried back to the car. Luckily there were toilet facilities near our parking lot. We took out clean, dry clothes and changed everything. Even our underwear and footwear was soaking wet. When we drove back we had to maneuver the car between huge fallen trees. Since we were the only ones on the road, we could use the whole width of it. The storm had caused quite some damage. After we left, the road was closed for clean-up.
We stayed in Houghton and drove around the area, when, from a corner of his eye Fred caught an edifice which looked like a Synagogue. We stopped and investigated this beautiful, well preserved but abandoned Synagogue in Hancock, which we could only view from outside. In the morning we took a walk through town. Suddenly the sky took on a strange surrealistic sight: as if a dark gray curtain was gradually drawn from the horizon over the town all the way across to us. It became very dark and then again heavy rain poured down. Luckily we found shelter in an enclosed small mall.
There were many more spectacular falls to explore, and in Ironwood we viewed the gigantic statue of Hiawatha. In Hurley, Wisconsin, we picked raspberries which we enjoyed eating for our lunch, and took a pleasant scenic boat tour to Taylor Falls. Soon we came to Minnesota and stayed in the twin cities of Minneapolis/St. Paul. Of course we visited the Mall of America, then the largest in the US. We took a city tour to view the Capitol, St. Paul Cathedral and the other tourist sites.
Sioux Falls in South Dakota was our next stop. After looking around the falls which are right in the center of town, we moved on to find accommodations for the night. A small town called Mitchell seemed appropriate for the distance we planned to travel that day. When we arrived there and signed in at the motel, we decided to explore it. We were greatly surprised when we saw the many attractions this place had to offer. Foremost was the Corn Palace, an enormous building that is decorated every year with corn husks in different colorful designs. Inside was a kind of fair with many stalls and boutiques. Almost across the street from it was a Doll Museum with more than four thousand dolls collected over two centuries. It was so fascinating that we could barely make ourselves depart after spending over two and a half hours there. Diagonally across from it was the world's largest Balloon Museum which was also very interesting. The Enchanted World was the fourth attraction which unfortunately we could not investigate for lack of time.
Badlands National Park was our next destination. We walked through part of the park and looked at these strange formations. It is very hot and dry there and no shade anywhere. Soon we continued on our way, stopping at the famous Wall Drug Store, to arrive in Spearfish and meet John's parents. They had reserved a motel for us and took us out for a lovely dinner at the casino in an adjoining town. We spent a pleasant evening with them at their impressive house and they gave us some good advice about places to visit the following day. So we went to Roughlock Falls and took a tour of Homestake Goldmine in Lead, then on to Mount Rushmore. It took us quite a while to get to it, and after finding a parking space it took even longer to walk to the edge from which to view the monument of the Presidents. Once there, a few moments are all one really wants to gaze up.
There are many beautiful caves in the area and we went to explore two of them: Rushmore and Wind Cave. It was with great pleasure that we could feast our eyes on the colorful stalagmites and stalactites in these ancient underground places. While driving through Nebraska we encountered a place named Carhenge, in a field in the middle of nowhere; it is a configuration of old cars arranged similarly to the famous primeval Stonehenge in England.
We returned to Colorado and to Estes Park in Rocky Mountain National Park, where we could drive in all the way and enjoy the beautiful scenery. In Denver we visited Red Rock Park and the Amphitheater, a natural grouping of boulders used for outdoor performances. In Glenwood Springs we went white water rafting and later enjoyed the Hot Springs pools. The whole place had been completely renovated and was now a modern, elegant spa, with places in which to relax in the many pools of varying temperatures.
In Utah we decided to take a smaller road, Route 128, that was described as scenic. It was a lucky choice. We had some magnificent views driving along a beautiful, clear and placid river. Then on to Arches National Monument with the many red rock arches and windows. Later we explored Dead Horse Point State Park, Capitol Reef National Park, Bryce Canyon National Park and Dixie National Park, all different but each captivating. Then we continued to Zion National Park where we found accommodations at Flannigan's Inn, close to the entrance to the park. It is a charming place with a fantastic view and we always try to stay there. The park itself is magnificent, probably our favorite park. The walk by the river is most enjoyable and the scenery changes at every turn.
Our last stop was at the North Rim of the Grand Canyon and luckily we were able to get accommodations in one of the cabins. It was wonderful to spend the night in this wilderness and walk around the Rim both at sunset and at sunrise. This was a great end to a most gratifying trip.
Michael and Jodi were having many problems in their marriage. Jodi was never satisfied with anything and always compared her status to her sister's, who was a hard-working, very successful realtor working with her lawyer husband. Jodi wanted a private swimming pool in her back yard, although they had a lovely one for their small community just two blocks away. Again Michael asked me for financial help and the swimming pool was installed. Jodi never treated me properly and she was even more unkind toward Fred for absolutely no reason.
Soon Michael decided that he wanted to get out of this marriage. He gave Jodi everything, the well furnished house and car and even paid up her student loan that she had incurred before their marriage. He moved out and rented an apartment. When they got divorced he agreed to pay her two thousand five hundred dollars monthly for alimony and child support, which he continued to pay her until she remarried. He still gives her fifteen hundred a month for child support and is a caring father seeing his children every two or three weeks and sometimes having them spend the whole summer with him. Michael found well-paying, interesting jobs in various cities such as Houston, Chicago and San Diego, and evetually decided to go back to school to become a lawyer. Initially he again asked me for financial help but he was doing so well in his studies that he received full scholarships and was able to support himself and his children without my help. He even managed to curtail his studied so that he will graduate in December 2001 after only two and a half years of study.
Iris also decided to advance her education. She studied at an evening university for four years while keeping her full-time job at Honeywell, which she has held since age nineteen. She received her Master of Business Administration degree in April 2001. This has helped her career in Honeywell. She now has a more responsible position and is in charge of a large group of employees. John has been writing full time for the last two years. He wrote a play, "Empire," about the trial of Field Marshal Ney during the Napoleonic era in France. The play was presented by the Play Wright's Theatre in Phoenix in 1998 and was quite a success. John's specialty is science fiction. He is currently writing a trilogy and is still looking for an agent.
Our best journey of the year was in October 1995. We went on a photo safari to Kenya and Tanzania. It was only a two weeks' trip but every day was unforgettable. We flew to London where we arrived the following morning. From there our flight to Nairobi was leaving only in the evening, so we were assigned day rooms near the airport. However, I had written to my cousins that we would be in London that day, so they all planned to meet at Eva's and Suzanne's house - Hannah, Erica, John, Jane and Dafna, in order to see us. After a quick shower and a short rest we went off to Hendon by underground and had a lovely family reunion.
We arrived in Nairobi the following morning, after two nights of flying and barely any sleep. It was Saturday morning and Fred had located a synagogue within walking distance from our hotel. While everyone else went to their rooms for a nap, we went to the synagogue. We arrived rather late, just at the end of the service; however there was a Bar-Mitzva and a big Kiddush. Fred went to the sanctuary to pray while I talked to some of the people. It turned out that they knew friends of ours in Phoenix and they wanted us to take a little package to them. We asked them to leave it with the reception at our hotel, as we would stay there again on our last night in Africa.
The same afternoon we started on our tour. The first stop was at Karen Blixen's farm house. Her pen name is Isak Dinesen, author of "Out of Africa" among others. Her gardens were especially fascinating with trees as tall as a five story house. From there we went to the Giraffe Manor where we could feed the giraffes while we stood on a second story balcony. They liked the food but did not want to be petted. Our last stop that day was at the Utamaduni Arts and Crafts Center where the natives performed their dances for us and we bought our first large carved African statues of a man and a woman.
The next morning we were on our way to "The Ark," a hotel surrounded by bush land in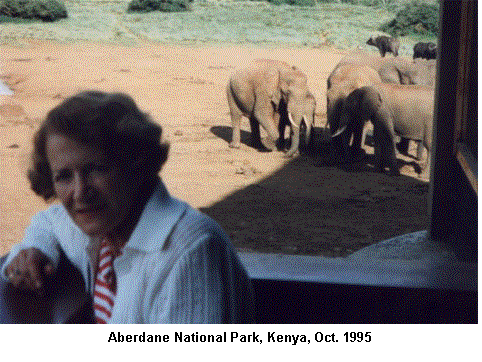 Aberdare National Park. We were only allowed a small overnight bag as accommodations there were rather cramped. On the way we stopped at the thundering Thika Falls and later we had lunch at the beautiful Aberdare Country Club. The hotel is in the middle of the wilderness and overlooks a flood-lit water hole and salt lick, high up on the densely wooded slopes of the mountain. We were required to lower our voices and be completely silent when we stepped out onto the terraces. A lot of elephants were quenching their thirst at the water hole, keeping most of the other wild animals away. From the balconies we could watch these huge creatures up close and could almost touch them.
On the following day we stopped at the equator to watch a demonstration of a curious phenomenon. Just two steps north of the equator, an object, such as a match or small stick placed in a bowl of water, will rotate in one direction, while just south of the equator, it will rotate in the opposite direction. At that stop there were a lot of Masai merchants and we went to look at their wares. Somehow Fred and I got separated and Fred found something that he thought would be nice for us to acquire. However, he did not want to buy it without consulting with me. The merchant was eager to make a sale, so he asked Fred for my name, and soon about half a dozen Masai were running around, calling "Vera, Vera!" Before long they found me and brought me to Fred and that merchant, who was able to complete the transaction.
Our lunch stop was at the gorgeous Mount Kenya Safari Club, founded by actor William Holden. It was a large, luscious place with an artificial lake and numerous types of birds. From there we continued to Samburu National Reserve, and the Samburu Serena Lodge, our lodgings for the next two nights. Our accommodations were close to Ewaso Ngiro River where huge hippopotami swim, sharing the river with giant crocodiles. We heard the hippopotami howl all night and in the evening a crocodile ventured to climb up the bank to devour some meat thrown there from the kitchen. During the day we went out on three game drives, each one lasting two hours. The first started at dawn, before breakfast, when the animals were most active, then in the late morning and afternoon, and the third in the early evening when the light was best for photography. During our days in Africa we were very lucky to see practically all the animals living there, thanks in part to our experienced driver. I listed as many as I could remember and was able to find out their names, and my list contains thirty-six animal and thirty-five bird species, beside three varieties of trees that grow only in that area.
Next we headed to Lake Nakuru, famous for its millions of pink flamingos. On the way we stopped at the spectacular Nyahururu Falls and later at the precipitous, steep slope of the magnificent Rift Valley. Then we continued to Lake Naivasha, the highest and purest of the Rift Valley lakes. A boat cruise took us to the breeding grounds of pelicans, fish eagles and cormorants. We were rather close to primeval hippos lurking in the shallow water, and watched zebras and antelopes grazing on the shore. From there we drove to the Masai area. We watched the red-clad, spear-wielding Masai warriors tend to their multi-colored herds among the wild animals. Only they are allowed to walk around, we and our guides had to stay in our tourist vans.
The next two nights we stayed at the Paradise Mara Lodge in Masai Mara National Reserve. It is Kenya's best and most scenic game park, situated at the northern edge of the Serengeti ecosystem. Due to a constant water supply, a thriving, permanent population of wild animals thrives there, and even increases due to the migration of two million gnus, zebras and wildebeests during the dry season in the Serengeti plains. On our several game drives we saw all the hunter's "big five": elephants, buffalo, lions, rhinos and even a leopard lazily hanging up in a tree. We were able to watch lions make love and cheetahs chase their prey. In the early evening we were entertained by Masai dancers in their beautiful red garments. Their guttural chanting is unique and so is their on the spot high jump.
We went on an optional visit to a Masai village and were greeted by the women with their chanting and dancing; later they offered us their homemade artifacts. Afterwards the village chieftain invited us into his abode, a low, rather small hut, though larger than all the others. It had just one room which served as living room, bedroom, kitchen and bathroom for his family of five.
Only once were we taken to an area where we were permitted to leave the van and walk among the wild beasts. We were accompanied by park rangers with guns, probably loaded with some tranquilizing substance in case an animal would attack us.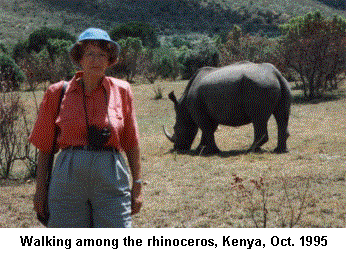 We walked among the Rhinos and I saw a cute little baby rhino whom I wanted to pet, but the ranger ordered me away, as the mother was close by and could be extremely dangerous.
This concluded our Kenya trip but we still had a four day tour of Tanzania ahead of us. First we returned to Nairobi, where we all had dinner at the most famous of Africa's restaurants, the "Carnivore." There they served all the wild animal meat grilled on skewers. The waiters came around with a small piece of each, such as snake, zebra, crocodile, impala, hartebeest or buffalo, but there was such a variety that by the time the guests had tasted them all no one was hungry enough to order a meal anymore. I was the only one who would not taste any of them, so I ordered grilled fish instead. Most of our group, including Fred, seemed to enjoy the experience very much.
After spending the night in the Intercontinental Hotel in Nairobi, we left for Tanzania. The roads were just terrible. There were potholes inside potholes and frequently our driver preferred driving off the road to avoid the incredible bumps. There was quite a hassle to cross the border at Namanga; each one of us had to go to the border patrol office and have our passport stamped both at the Kenya border and again some hundred yards further at the Tanzania border. A multitude of merchants crowded around us, trying to sell us their wares. We were cautioned by our tour guide not to take pictures of these women who could become rather pushy. Well, Fred ignored that advice. He took some pictures and was instantly surrounded by a multitude of women and he had to be rescued by our tour guide. One of these women peddlers gave Fred a bracelet, asking him to remember her and only buy from her on our return. However, he had learned his lesson and was careful to stay out of sight on our return.
We were now transferred to the Tanzanian van driving us to Arusha where we had lunch and then we continued to Tarangire National Park. Before arriving at our Tarangire Sopa Lodge, we were able to go on another game drive. We encountered a group of elephants close to our path, heading across our way. The leading elephant was a huge beast and showed signs of anger at our presence, so our driver backed off, waiting until the herd passed, before he ventured to continue. He told us that a few days earlier one of his fellow drivers/guides had had a similar encounter, but had tried to drive on. The elephant got angry and just flipped the van over. The people inside were only bruised but rather scared, and another van had to come to help them get out.
While driving through one of the desert areas we stopped at a cluster of huts filled with merchandise for tourists. Attached to the canvas of one hut was a sign in many languages welcoming the tourists. Among them was the sign "Shalom" in Hebrew. When we entered that hut I started speaking Hebrew with the merchant and was really surprised that this Masai was able to answer me. His vocabulary was very limited but still it was astounding that a Masai in the middle of nowhere knew some Hebrew!
Our last destination was Ngorongoro Crater, the most famous game park in the world. The over one hundred square mile crater hosts an incredible variety and density of wildlife. Our accommodations at the Ngorongoro Sopa Lodge, located right on the edge of the crater was a brand new place of sheer luxury. The common areas had beautiful marble statues and staircases and the terraces offered a stupendous view of the deep crater below. Our rooms were spacious bungalow suites with balconies overlooking the crater. In the morning we noticed that the lovely gardens around our rooms had been mired. Later we found out that some buffaloes had managed to infiltrate into the resort area and dug up the flower beds during the night. We spent the whole day driving through the crater, and encountered numerous animals, as well as two young Masai shepherds leading their Brahman cows. Only their long spears protected them from the roaming wild animals.
On our way back to Nairobi we encountered vendors at the side of the road selling huge ostrich eggs, as large as a human head. However we just stopped to take a picture. In Nairobi we had time to visit the local market and get a few more gorgeous carvings. They liked our old hats, shoes and T-shirts which we traded in for some of their merchandise. We had to buy another bag to be able to transport all our shopping, and at home we had to add on another room - our Kenya room - to accommodate all the fine wood carvings we had acquired.
1996 was another exciting travel year. In March-April 1996 we flew to Israel via London. We enjoyed our visit with our children and grandchildren and had lovely Seder and Pesach celebrations with them. We managed to exchange one timeshare week to Eilat, where we enjoyed the beautiful facilities. While staying there, we took a one day trip to Petra in Jordan. It had been my dream for about sixty years to visit Petra, the city carved out of red rock. During my youth, some of our friends dared that voyage into enemy territory and quite a few lost their lives on that venture. Now there was a peace treaty with Jordan and many busloads of Israeli tourists went on this extraordinary tour every day. We arrived at the border shortly after six in the morning, but wasted over two hours with formalities and beaurocracy until we were permitted to go across. A large information board specified the rate of the Jordanian visa for each country of citizenship. All Arab citizens were exempt, but those from countries Jordan looked upon unfavorably, such as Israel or the USA, had to pay the highest fee.
Finally we were allowed to proceed and drove close to the Saudi Arabian border from where we had a good viewpoint of the gulf of Aqaba. On arrival at Petra we had the choice of riding mules or walking, but we preferred the latter. The temples, tombs and Roman ruins of this ancient Nabatean city were only rediscovered in 1812. Petra lies in a narrow valley surrounded by lofty mountains. The ornate carvings on the perpendicular faces of the temple fronts are unique. We saw the Treasure House, the Amphitheater, the Citadel and the Palace, all showing evidence of Greek, Egyptian and Oriental influences. I was exhilarated at finally having the opportunity to see Petra. Later we had lunch in a big tent and bought some of the spices we had tasted in our tea.
As there is a peace treaty with Egypt, I suggested that we go to Taba, the beautiful resort built by Israel right on its border, but disputed by Egypt. After years of negotiations, the UN gave it to Egypt. We were going to have afternoon tea in that lovely resort, which both Fred and I had visited while it still was part of Israel. So we took a short bus ride and then had another lengthy beaurocratic encounter at the border. How disappointing was this place when we finally arrived! It was dirty and run down, and the waiters were thoroughly rude. They would only take Egyptian currency, no charge card, dollars or Israeli money! We did not bother to go to their cashier to get Egyptian money; we no longer had any desire to stay. Another long hassle at the border and waiting for the bus, at last brought us back to our resort. We had wasted more than two hours without having had any tea. But most perturbing was the sight of this once gorgeous resort having deteriorated so sadly once it was turned over to the Egyptians.
After more visits with friends and family we went to London. There we stayed at the Hilton Hotel, took some tours, and saw more of my family. Then we embarked on the Queen Elizabeth II which took us from Southampton across the Atlantic to New York. We had a great time on this luxury liner. When we arrived at New York harbor we all rushed on deck to gaze at the skyline. Walking down a stairways I missed seeing the last step. I tripped and sprained my ankle and tore some ligaments. It was extremely painful; I needed immediate help but it took some time until the ship's doctor could examine my foot, as he had to be awakened. The medical personnel were very caring, taking X-rays to make sure no bones were broken. They gave me some pain pills and sedatives, and provided a wheelchair to take me to a taxi. It was a rather sad anticlimax to an otherwise lovely vacation.
According to our plans we flew to Nevada just two weeks after our return, so we started off with me still using crutches. We flew to Reno, which was a rather disappointing town, nothing more than a small hick town with a few casinos. The following day we drove to Mammoth Lakes, still covered with six feet of snow in May. We drove to all the surrounding lakes, such as Crawly, Grand, Silver, June and Mono Lakes and soon I was able to discard my crutches. We visited Virginia City, the Ponderosa Ranch of TV Bonanza fame and on to the Squaw Valley Olympic Village where we had been able to get a week's timeshare exchange. It was a lovely place and it gave us the opportunity to explore the whole Lake Tahoe area, such as Truckey and the Donner Pass. One day we drove around the entire lake and even took a very enjoyable cruise.
Just a month later we embarked on another exciting trip, this time to Europe. We started in Goeteburg, Sweden, where we picked up our new Volvo from the factory. On arriving at the airport on 4th of July 1996, we telephoned the factory and were told to wait where we were. A Volvo chauffeur met us there five minutes later. We were promptly escorted to a luxury Volvo stretch limousine, taking us and our luggage to the factory. After serving us a fine lunch we were taken on a tour of the factory, which was really fascinating. Unfortunately I was so tired from our long flight that I often dozed off. Finally we were shown our new Volvo, an immaculate, lovely car. All its features were explained to us and then we went on a test drive. It was really thrilling. We took some time to rest up and then drove our new car with a full tank of gas to the harbor, to embark on a ferry boat for an overnight crossing to Kiel, Germany.
We first went to Amstelveen, Holland, to visit Fred's family and participate in the unveiling of the gravestone of Jacques, Fred's brother. While there we visited the Portuguese Synagogue, the Van Gogh and Rijksmuseum in Amsterdam and Fred's old German teacher Frau Tinbergen, in Delft. In Den Haag we visited Fred's cousin Ben Swaab. We drove to some of the quaint little towns around Holland, such as Marken, Volendam and Edam, and saw the world famous flower market in Aalsmeer.
Our next stop was Heidelberg to visit Dorit, with whom we went to Friday night services in Mannheim and Saturday morning in Heidelberg; then on Sunday on to Baden Baden in the Black Forest. The weather was lovely and we enjoyed this beautiful spot. The Buehlers in Freiburg were our next destination. We stayed with them for four days and were again treated royally. They wined and dined us in the most exclusive restaurants and they also took us to beautiful places, like the Isle of Mainau, a flower garden of exquisite beauty, to Shaffhausen on Lake Constance, to Schauinsland, a high point in the Black Forest, and to Colmar in France. There we visited the Bertholdi Museum that houses all the plans of the sculptor and architect who created the Statue of Liberty.
We succeeded in getting a week's timeshare exchange in charming St. Johann im Pongau near Salzburg in Austria. On our way we visited some lovely small towns situated on Lake Constance, such as Lindau and Meersburg. During that week we also toured the Lake District of "The Sound of Music" fame, went to the Liechtensteinklamm waterfalls and crevice and visited Salzburg several times. In Salzburg we went to the Mirabellen Garden, Hellbrun Castle and water gardens, Hohensalzburg Fortress, Mozart's birthplace and the Marionette Theater to see and hear "The Magic Flute."
Venice was next on our program and there we stayed in a motel just outside the city, taking the bus to reach the town center. I had been in Venice quite a few times before but had never taken a Gondola ride. This was Fred's first visit to Italy and he wanted us to experience all the tourist attractions. So we floated on the canals in a Gondola and had coffee in a cafe on the Piazza St. Marcus. We walked along the famous canals over the Rialto Bridge and along the harbor and explored the ghetto with the Jewish Museum and the four synagogues.
While standing in line to get inside St. Marcus Cathedral, some American tourists raved about Padua, a most beautiful town just about an hour's drive from Venice. As it was not far out of our way, we decided to go there for a short visit. However, we arrived in Padua in an immense rainstorm with a sky as dark as night although it was only eleven in the morning. We could barely see anything and would have been completely drenched if we would have attempted to get out of the car. So we gave up the idea of seeing Padua and made our way out toward the coast. We came to a lovely small beach town called Bellaria and decided to stay there. After inquiring at a few hotels and pensions, we finally found an unpretentious cozy pension which had accommodations for us. It was still raining but no longer heavily. Everyone was watching sports on TV until late in the afternoon, when the sun tried to come out. We walked to the town center and the beach, where people were already back in the water, swimming. It was a lovely, very pleasant little town, and we enjoyed walking along the streets with its many shops. The next morning the sun was out and we, too, went swimming. A big market had been installed for the day and we had fun browsing and shopping there.
Florence was our next destination. On the way there we stopped in Rimini just to see this beach resort. Then we paid a visit to the tiny independent republic of San Marino, perched high up in the Apennine Mountains. From there we had a stunning view of the surrounding area and we enjoyed strolling around among the many other tourists. By the time we arrived in Florence it was rather late, so Fred wanted us to find accommodations quickly. Most hotels were very expensive, but we took one for just one night. It was not really nice and the personnel not at all pleasant.
The next morning we wanted to go to the tourist information office, located in the train terminal, to direct us to more appropriate accommodations. We drove around a large block three times before we could locate the entrance to the station. Swarms of motorcycles and scooters were driving wildly all around us, overtaking us from all sides. We felt lucky when we arrived without accident. We were given the address of a smaller hotel, a place that was walking distance from town center. This enabled us to leave the car parked and not to have to risk being swept away by the extremely crazy and hazardous Italian traffic. We spent two wonderful sunny days in Florence, touring all the main attractions. We went to the unique Uffizi Museum and the Dali Museum, with some of the most incredible art exhibits, to the synagogue on Saturday morning and Santa Croce Cathedral as well as Ponto Vecchio on the Arno River.
Fred wanted to see Milan so we drove there next. It was rather disappointing, as the La Scala could merely be viewed from outside whereas it is only impressive from inside. The famous Cathedral was being renovated, its splendor lost among the scaffolding. We went to see the Galleria but after about two hours we left Milan and drove towards Alassio, where I wanted to stay. We passed a lovely little resort town called Acqui Therme, which looked so inviting that we decided to stay there for a night. We were able to find accommodations at a pension which catered to the Italians on vacation. Dinner and breakfast with all the other guests were very enjoyable, and in the morning went swimming in the hot springs. Then off to Alassio, where there were absolutely no rooms available anywhere on the Italian Riviera. It was the first week of August, and all of Italy shuts down the first two weeks of August giving every Italian worker his yearly vacation.
We decided to drive along the coast for a while anyway, and if accommodations could not be found, we would turn inland later in the afternoon. We saw one resort town after another, all very lovely and inviting. Suddenly, with the corner of his eye, Fred saw a sign saying "Zimmer." He pressed on his brakes and I got out to ask if anything might be available. The innkeeper had one room for two nights, just what we were looking for, which we took. The innkeeper wanted to show it to us, but we took it without looking, happy that we could stay near the beach. It happened to be a lovely little room with private bathroom and with two large windows overlooking the Mediterranean. It was called Pensione Monte Carlo in the town of Laigueglia, a beach resort popular with the Italians.
In the evening we went out for a walk and mingled with the Italian holiday makers. The place was extremely pleasant and festive, and made us feel uplifted and joyous. In the morning we bought fresh rolls, cheese and milk at the bakery around the corner and had a delicious breakfast while watching the first bathers attempting to soak in the as yet rather cool water. Later we also went to the beach, and enjoyed swimming and relaxing on the deck chairs.
After leaving this charming holiday resort, we drove to San Remo, Menton, Ventimiglia, Nice and Monte Carlo, the capital of Monaco. The last place was so congested that there was absolutely no parking space available anywhere; unable to stop, we could only drive through. We soon left the enchanting French Riviera and turned inland, starting to climbing into the Alps. The road was good but very winding and after every curve we got a different breathtaking view. We drove through Col de Vars, famous for skiing, then on to France, and to Briancon, a fascinating medieval town with an old fortress on the top of the high Alp Mountains. From there we drove first to the spa resort Charles Aux Baines and then Chambery, where we over-nighted at an attractive sports hotel.
We crossed over into Switzerland and visited Geneva, with its imposing buildings of the United Nations and the Red Cross World Headquarters. From there we investigated Lake Geneva, Lausanne, Laurenz and Vuarrans. We stopped at several hotels to inquire about room availability at an affordable rate. It took us several hours until we finally located a room for the night. In a lovely motel in the middle of the countryside, a charming place with a stunning view of the Thuner Lake, we managed to get the last room.
Next day we went to nearby Interlaken, a beautiful lively town right on the lake. Later we visited Spiez and its castle and enjoyed more of the spectacular scenery. Slowly we made our way towards Germany. It started raining again and we were lucky to find a cozy bed and breakfast place in Lorrach, where we could warm up in our comfortable, heated room. The next night we stayed in Frankenthal and joined the merrymaking at a popular evening concert. Driving north towards Hamburg, we took the road along the Rhine River, passing many picturesque towns and villages, among them the famous Lorelei cliff. The next night we stayed in the beautiful City Hotel in Lippstadt, again joining a festive crowd.
In Hamburg we spent a few days with my cousin Lore, who had a lovely house in an attractive opulent suburb. It being Saturday the next morning, we went to synagogue. They searched us thoroughly and investigated us meticulously before they let us in, although they saw my maiden name on my passport and knew my uncle, Professor Landshut. On Sunday we took a city tour and a boat tour on the beautiful Alster. The following day we visited the harbor and the Elbe River.
Then it was back to Kiel and the ferry boat which took us to Goeteburg. We drove right out to the border with Norway, on to the fifty year old Svinesund Bridge and arrived in Oslo. There We found a nice little bed and breakfast place in the suburb of Nordstand. We stopped to visit a stave church and stayed the next night on camp grounds near Edland. The place was empty except for us and one couple in their motor home. The proprietor was eager for us to stay, so she offered us sheets and towels from her home. With a choice of cabins, we selected one close to the lake and to the bathrooms with hot showers which we had exclusively to ourselves. The place was so serene and pristine, almost making us feel as if we were alone on the planet. Our cabin had three bunk-beds of which we used two bottom ones. I served both supper and breakfast on the terrace outside our cabin overlooking the quiet blue lake. Before retiring for the night we went for a long walk around the lake without meeting another soul.
On our way to Bergen we saw many impressive waterfalls and occasionally we needed to wait for a ferryboat to cross over some fjords. We found a fairly reasonable hotel on a hill in the outskirts of Bergen and then walked and drove around to see the town. The following day we took the twelve hour tour "Norway in a Nutshell" which took us by train, bus and ship to some of Norway's most breathtaking scenery. First was the train ride to Flam via Myrdal, stopping at a spectacular waterfall. From Flam to Gudvangen we were transported by ferryboat, enabling us to admire massive snow-capped peaks that enclose the fjord. In Gudvangen we continued by bus, climbing up through a valley to Stalheim Tourist Hotel with a captivating magnificent view. After a short stop we continued along Oppheim Lake to Voss. From there it was back to Bergen by train.
We now started to make our way back to Sweden. We drove eastward and took a ferry to Geillo, a small ski resort where we stayed at a bed and breakfast place. Then back to Drammen, a busy seaport town, through Oslo and Mysen to a farm far away from anything, close to the Swedish border. We had found the address in the tourist guide for accommodation on farms. Our cabin was one large room with a clean outhouse that also had a hot shower. During the night it was so cold outside that I took Fred's raincoat to go to the outhouse. In the afternoon we went for a walk to a nearby forest and plucked a lot of delicious wild berries; we must have disturbed some bees, as one of them stung me.
Vaesteras on Lake Maelar was our next stop. There we stayed at a comfortable YMCA right on the lake. We drove to Kristinehamm to see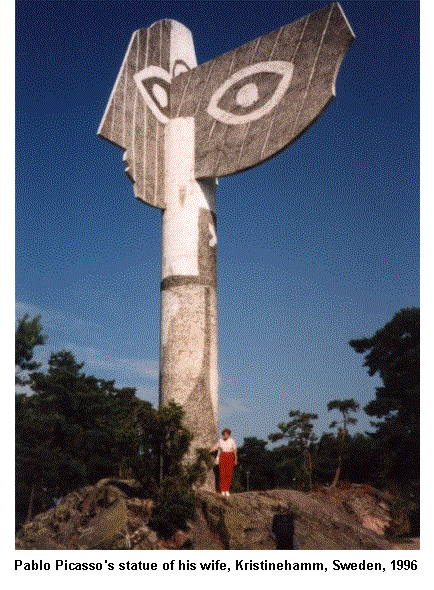 Pablo Picasso's statue of his wife, which was enormous but not much of a likeness.
Then on to Skokloster, Sigtuna, Norteje and the university town of Uppsala. Near Rimbo we found another bed and breakfast establishment where we had a large house to ourselves. It had three bedrooms and an indoor sauna as well as an outdoor swimming pool, just for our use. The breakfast served us in the morning was so elaborate and plentiful that it could have fed half a dozen people. Our hosts were always extremely friendly. We were sorry that our communication was so limited as most of them spoke only Swedish.
Our next stop was the charming Trosa, with a placid river running right through its middle. We walked around town and took some pictures of the church and the marina. In the afternoon we drove along a lovely country road and saw a stylish hotel. Fred decided to ask if accommodations were available and at what price, although I thought that it would be way above our budget. It turned out that Fred was right. They had rooms available at a reasonable price. We were happy to be able to enjoy a beautiful room with a delightful view of the lake and walk along the shore of these wonderful surroundings near Kolmarden.
The next day we again found a bed and breakfast place on a farm near Rogsloesa. Once more we had a lovely house all to ourselves and our hosts even brought us afternoon tea. They also told us about a concert that would be held that evening in their church, recommending it highly. So we followed their advice and enjoyed an evening of lovely music.
Our last overnight on a Swedish farm was near Alingsas. There we had a little apartment with a covered small winter garden. We had difficulty communicating with the farmer but he connected us with his daughter by phone. She spoke English very well and told us to come for a walk and visit with her and her family. It was a pleasant walk and interesting to meet the young people and their children.
On our last full day in Sweden we visited another large waterfall near Huskvara, then the town of Jonkoeping. We drove to Goeteburg, back to the Volvo factory to leave our car for them to ship it over to Los Angeles. The Volvo people agreed to keep the car for us for over a month. We were going on another big trip and timed the arrival of the car so that we could pick it up on our return. They made reservations for us at an airport hotel, as our flight was the next day at seven in the morning. It was a beautiful hotel, very luxurious, but extremely expensive. We had a delicious breakfast at five in the morning and were then taken to the airport. That same evening we arrived home. It had been a wonderful, adventurous trip. Yet again, the best one of the year was still to come.